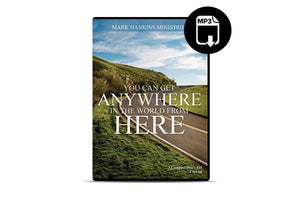 You Can Get Anywhere In the World from Here
3 CD Set #1 You Can Get Anywhere In The World From Here #2 Faith Is The Substance #3 Pneuma Faith, Believing With The Heart
We having the same spirit of faith, according as it is written, I believed, and therefore have I spoken; we also believe, and therefore speak; 2 Corinthians 4:13

The Spirit of Faith is necessary not only to receive from God but to overcome every obstacle and opposition of the enemy and to move into the full will of God for your life.
Today, wherever you are, no matter what has happened in your life - if you will dare to believe God and speak His word, you can get anywhere in the world or in the blessing of God from where you are right now. 
The Spirit of Faith will set you on fire with a Pioneer Spirit to press into new territory and into new blessing, then cause you to leave the past behind.