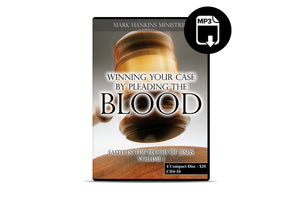 Winning Your Case By Pleading the Blood
4 CD Set #1 Winning Your Case By Pleading The Blood #2 The Ingredients Of The Blood #3 The Blood Reaches Heaven And Heart #4 How The Blood Of Jesus Is Applied
Apply the blood constantly with boldness and full assurance of faith. This will launch you into a new level of victory and blessing. 

The blood of Jesus circulates throughout the Body of Christ. We need one another. We need to be assembled together and fellowship with other believers. 
There is no such thing as passive faith. Faith is an act. Faith acts like the Bible is true. We act in faith like the blood of Jesus has purchased our redemption. 
The blood of Jesus is honored as we lift our voice in faith declaring what it has and is accomplishing. 
The Spoken Word of God is the voice of the blood covenant. Every word has blood in it. The blood must be applied by faith.