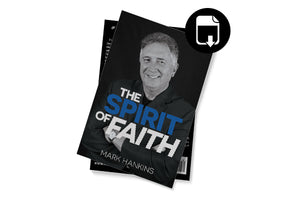 The Spirit of Faith (Ebook)
If you ONLY knew what was on the other side of your mountain, you would move it! The Spirit of Faith is necessary to do the will of God and fulfill your divine destiny. Believing AND speaking are necessary ingredients in the spirit of faith. Faith moves mountains. Faith won't move anything until it moves YOU! The first part of you that your faith will move is YOUR MOUTH!
"Spirit of Faith will inspire you to the truth that faith really can move mountains. Pastor Mark Hankins does an incredible job of making you hungry to live a life that is actively driven by faith." Joyce Meyer, best-selling author & Bible teacher
*Digital Books are available for most e-book readers, including the B&N Nook, Kobo eReader, Apple's iBooks app, Google Play Books, Adobe Digital Editions, Stanza Desktop, Okular, and Sumatra PDF.