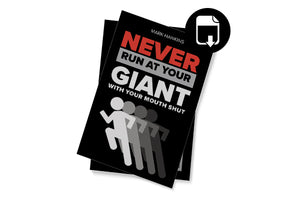 Never Run At Your Giant with Your Mouth Shut (Ebook)
The Bible story of David and Goliath gives us a picture of how faith in God is released through faith-filled words. Winning the War of words is necessary to win the fight of faith.
• Never underestimate the POWER of your voice!
• Anytime God wants to change someone's life, He always touches their mouth.
• The Word of God gives believers mouth to mouth resuscitation from God.
We all face many giants in life that must be conquered before we can receive and do all that God has for us. Lift your voice!
*Digital Books are available for most e-book readers, including the B&N Nook, Kobo eReader, Apple's iBooks app, Google Play Books, Adobe Digital Editions, Stanza Desktop, Okular, and Sumatra PDF.