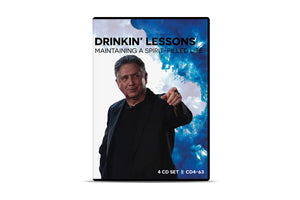 Drinkin' Lessons
Regular price $20.00 Sale
4 CD Set #1 The Power & Purpose Of Being Filled & Filled Again #2 What Happens When You Rejoice #3 Drinkin' Lessons #4 The More You Drink, The Better You Think
Jesus said come unto me and drink, not think! 
You can be no closer in your relationship to Jesus than your relationship with the Holy Spirit. 
You must have a drinking relationship with God, not just a thinking relationship. 
If you will drink better, then you will think better. 
You need drinkin' lessons: 1) Open your mouth wide and God will fill it. You can't get drunk with your mouth closed. 2) Put your mind in neutral. Get out of the natural. 3) Open up your spirit. You are a spirit, made to carry the Glory of God.