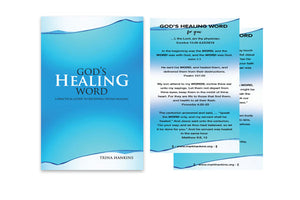 God's Healing Word with Trina Hankins TV Offer (TVD-168)
Regular price $20.00 Sale
God's Healing Word (Book & Confession Card)
Included in this practical guide to receive your healing, you will find these helpful tools:

Testimonies and practical teaching designed to help you know God's will and to overcome obstacles that may hinder you from receiving your healing.
Healing scriptures and confessions to strengthen your faith in over 80 different translations.
CD of healing scriptures and confessions read by Mark Hankins Accompanies by beautiful, anointed music.
You can school your way into faith for healing by studying and meditation on scriptures on these topics: Healing is God's will; Healing through God's Word; Redeemed from the curse of sickness.
Learn how to: Act on God's Word; Use your authority and receive your healing; Maintain your healing.
**If you would like to order this TV Offer for your gift of any amount, please call 318-767-2001 or mail your order in to P.O. Box 12863 Alexandria, LA 71315.**