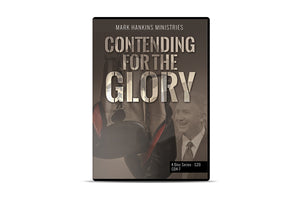 Contending for the Glory
Regular price $20.00 Sale
4 CD Set #1 Carrying The Glory #2 Contending For The Glory (pt. 1) #2 Contending For The Glory (pt. 2) #4 The Holy Spirit: The Spirit Of Glory
Glory: Wealth, numbers, commerce, power, wisdom, promotion, superiority, dignity, authority, nobility, splendor, valor, magnificence, extraordinary privileges and advantages.

We must contend for the Glory and Supernatural Power of God in this generation. 
Some people are self conscious, some are people conscious, and some people are just unconscious, but today we must be God conscious...the Greater One lives in us. 
The Glory of God is ushered in with great joy. 
We must contend for and carry the Glory of God.