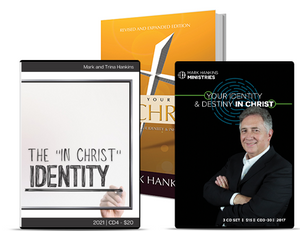 August 2022: In Christ Package
Regular price $25.00 Sale
If you are not impressed with who you are in Christ, you just haven't seen Him lately.  You look a lot better in Christ than you do outside of Him. You are such a new creature in Christ, you will have to let God introduce you to your new self. You are not the same person you used to be.  God did in Christ what He wanted to do in every man.

 Taking Your Place In Christ (Book)
 The "In Christ Identity (4CD's) AND Your Identity & Destiny In Christ (3 CD's) (Cd Sets)
Get this offer "TODAY" for your gift of $25 or more!
**If you would like to order this Offer for your gift of any amount, please call 318-767-2001 or mail your order in to P.O. Box 12863 Alexandria, LA 71315.**